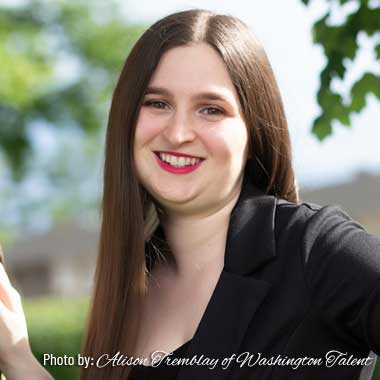 Christine Ash
Senior ​Event Director/Planner
​ Vision Development/Designer
​Senior Advertising and Promotional Products/Favors Specialist
CEM – Certified in Event Management, GWU
Christine, born and bred in Montgomery County, graduated from St. Andrew's Episcopal School in 2009 and attended the University of Maryland, College Park that same fall majoring in Theatre where she graduated Cum Laude in the Spring of 2013. Most recently, she obtained her Professional Certification in Event Management from The George Washington University School of Business.
Christine began her career with SAVE The DATE, LLC events and promotions your way in the Spring of 2012, during her junior year of college, when she realized that her true passion lay in event planning. After assisting her academic advisor in planning her 40th Vow Renewal in the Fall of 2011, she reached out to the Best of Bethesda, "Best Event Planner" winners (which SAVE The DATE proudly has been numerous times) to obtain an internship, and thus began her career at SAVE The DATE.
Christine has spent the past seven years helping hundreds of couples and families enjoy planning and attending their milestone celebrations, and her favorite part is seeing the pure joy on their faces the day-of their special event. While every event is exceptional, and even personal to her, her favorite event she planned was her 2015 wedding to her High School Sweetheart in Rehoboth Beach on July 4th (the 10th anniversary of when they became a couple).
Christine enjoys working collaboratively with her clients to achieve personal events that reflect the families and couples. She subscribes to the motto that there is not one way to plan a correct event, but that the best events occur because they completely represent the hosts and honorees. Her passion and dedication to helping her clients achieve their event goals set her apart, all while subscribing to the SAVE The DATE belief of "Guiding You through the planning process so You enjoy Your Special Event."